"I strongly recommend attending this program. This was, by far, the best development experience I have had in my life. It will be a highly valuable investment in your career."
"(It was) the most incredible journey and transformation I have ever experienced... A truly wonderful gift..."
TUITION FEE OPTIONS



Option # 1

Pre Pay Full Amount

US $11,400






Option # 2

6 Monthly Pmts. of $2,050

US $12,300



Please note: All our programs are delivered in English.
What is the Level 2 Program?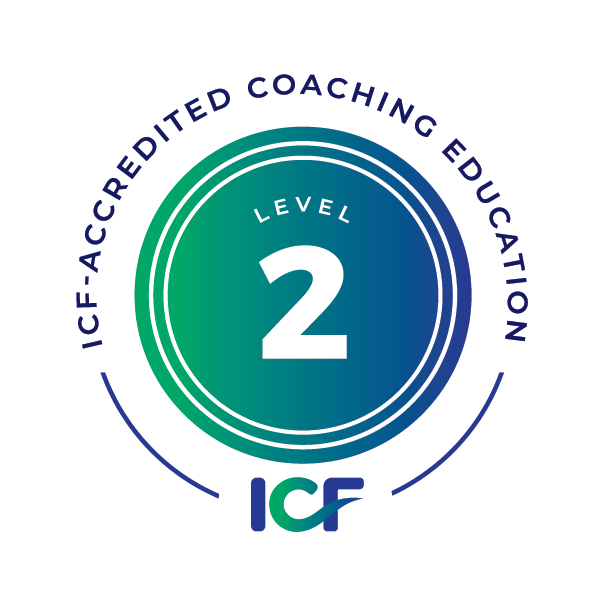 The ICF Accredited Level 2 Program is a robust, all-inclusive training designed to develop the skills necessary to coach any client in any situation.
It includes: 
Asynchronous online coach training (15 hrs)

In-person intensive coach training (125 hrs)

Private mentoring (10.5 hrs) (mentor coaching is required to apply for any ICF credential)

Performance Evaluation at a PCC level (an exam is required to apply for any ICF credential)
This course is for those who want a complete experience of coach training. It teaches powerful coaching skills through a combination of lecturettes, drills and skill-building practice. There is also mentoring and feeback during practical coaching exercises as well as demonstrations of skills and competencies from master coaches.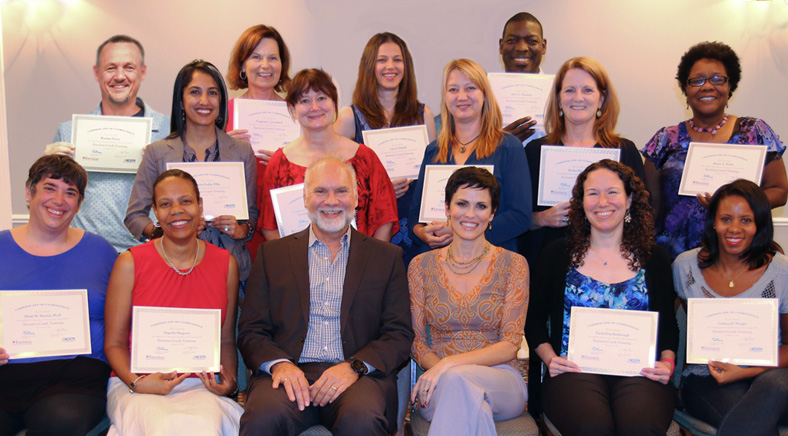 The advanced modules teach the skills necessary to coaching high-level individuals and teams through basic human system change, while supporting effective leadership and strong interpersonal connections. The ICF framework, coupled with specific knowledge related to leadership and change creates an engagement approach built on empowerment. The coach develops strong presence and flexibility and the skills to support the unique issues related to professionals, business owners, managers and leaders.
LOCATION & DATES
*****(Scroll to the tabs below for details)*****
Curriculum | Dates | Locations
Take A Look At What's In Store
Foundation for Powerful Coaching
• Introducing Envision's Models for Coaching
• Role Definition and Effective Contracting
• The Craft of Coaching Mastery
• Building the Coaching Relationship
• Crafting Powerful Questions
• Direct Communication Skills
This training module introduces Envision's time proven coaching model as well as ICF's most current coaching competency requirements for certification. You will be grounded in the concepts of coaching as a practice, as well as powerful coaching skills as a whole. We focus on establishing a strong framework within the overall coaching relationship through a clarification of role parameters and contracting definitions. You are challenged to bring yourself to your coaching in a more effective way, and to more fully utilize powerful questions and direct communications in your engagements with clients. This is learned through Envision's coaching methodologies, the ICF coaching competencies, systems theory, change processes, as well as Gestalt coaching methodologies. Through an interactive process we also provide direct observation and skills assessments to begin a powerful learning and development plan for each participant.
2023
Online (a-synchronous) between Aug 28—Sept 17
In-Person on Sept 18, 19 & 20
Hyatt at 2626 Sage Road,
Houston, TX
Coaching Systems for Integration
• Power Dynamics
• Working Virtually with Individuals and Groups
• Creating Coaching Engagements
• Accountability and Feedback Systems
• Establishing Engagement Plans
• IntraPersonal Conflict Integration
This intermediate module highlights the power dynamics in all interactions and how to manage them in the coaching engagement. This module will help clarify what it means to have client engagements and how to navigate them. We go over accountability and feedback systems and the structures you can use to illuminate and reinforce the relationship between action and consequence. You will also learn how to coach clients effectively and more powerfully when working virtually. Additionally, we teach you to help your client resolve intrapersonal (inner) conflict through working with rather than against the system, creating an outcome congruent with the whole person.
2023
In-Person on Nov 13, 14 & 15
Hyatt at 2626 Sage Road,
Houston, TX
Coaching with Assessments
• Using Commercial Assessments
• Working with 360 Feedback
• Coaching with Assessment Results
• Helping your Clients Make Useful Meaning
This intermediate to advanced module focuses on coaching clients when assessments are involved. We give you a strong foundational understanding of Myers-Briggs Type Indicator (MBTI), as well as working with 360 Feedback Assessments. You learn how to coach your clients when an assessment is in the room, helping them make meaning from their results, become aware of how they manifest in the present, and move forward with new awareness.
You will also take an assessment during the training and leave with a deeper understanding of yourself and your own styles as a person and as a coach.
2024
Online assignment between Jan 26—Feb 15
In-Person on Feb 19, 20 & 21
Hyatt at 2626 Sage Road,
Houston, TX
Mentor coaching is a combination of coaching and mentoring provided by a master coach to another coach. Through coaching, giving advice, and sharing experience, the mentor coach assists you with your coaching skills. 10 hours of mentor coaching is part of the Level 2 Program and is also required in order to obtain any ICF (International Coach Federation) certification.
The Level 2 mentor coaching package (10.5 hrs) is set out in the following way:
• Five 1.5-hr group mentor coaching sessions
• Three 1-hr one-to-one mentor coaching sessions
Mentor Coaching starts after the first module and is taken between modules or after training is complete, depending on your preference.
Mentoring takes place online. One-to-one sessions consist of listening to a 30 minute pre-recorded coaching call with you and your client, then 30 minutes of direct feedback and mentor coaching. The group mentor coaching sessions consist of listening to a 30 minute pre-recorded coaching session with either you or another member of the cohort and a client, then 30 minutes of direct feedback and mentor coaching, and then 30 minutes of group discussion.
Check out our Mentor Coaching FAQ page for more details.
Deepening Your Practice as a Coach
• Self as Instrument
• The Quest of Your Questions
• Multiple Perspectives
• Direct Communication
• Working with Multiple Modalities
• Powerful Statements
In this robust 3-day module we step into deeper understanding of coaching skills. You will learn to build a foundation of coaching agreement with your clients, become more aware of how the intent behind your questions affects the engagement, and gain skills that help your client explore new perspectives and resolve inner conflict. Using Envision's models, Gestalt techniques, Neuro-Linguistics (NLP) and advanced coaching competencies, you will also become far more powerful in direct communication with your clients. You will also learn to identify what modality your client tends to experience the world through, allowing you to better create rapport and awareness with them. You are then empowered to assist them via their own unique strategies, working with the client's strengths. You will also learn how to make powerufl statements as a means to communicate directly and resourcefully with your clients.
2023
In-Person on Oct 16, 17 & 18
Hyatt at 2626 Sage Road,
Houston, TX
Online (a-synchronous) between Oct 23—Nov 19
Coaching for Success in Organizations
• NeuroScience of Leadership and Success
• Understanding and Using Change
• Working with Groups and Teams
• Coaching Individuals within a Group
• Coaching a Two-Person System
• Working with Interpersonal Conflict
This intermediate to advanced module provides an in-depth look at the leadership experience and winning strategies. We delve into the fascinating world of neuro-science and how it pertains to your clients' processes. You will gain an understanding of organization structures as well as the dynamics of human change, while you learn strategies to help your clients lead their own change as well as that of others. You will learn how to coach groups, teams, and individuals within groups. You will also have a greater understanding of how to navigate contracts, ethics and personality issues when the organization is your client. We explore how beliefs and interpretations are formed, and the different levels of system at work within groups of two or more. We teach and practice productive dialogue skills in working with interpersonal conflict.
2023
Online (a-synchronous) between Nov 27, 2020—Jan 21, 2021
2021
In-Person on Jan 22, 23 & 24
Hyatt at 2626 Sage Road,
Houston, TX
Crafting Advanced Engagements
• Helping Your Clients with Well-formed Visions
• Developing Powerful Coaching Presence
• Supporting Beliefs Changes
• Creating your Coaching Practice
This advanced 3-day module brings all other modules together and allows for integration of the previous six months of learning. There is a focus on well-formed client outcomes through a set of powerful inquiries. We delve into the advanced area of supporting beliefs changes in your coaching clients. We also help you to clarifying your own coaching practice as you move forward in your career; how to calculate fees, clarify niche, and define who you want to be as a professional coach. This is also when we celebrate your graduation from the training portion of the program.
2024
In-Person on Mch 19, 20 & 21
Hyatt at 2626 Sage Road,
Houston, TX
PCC Performance Evaluation
The Level 2 Program includes a thorough PCC Performance Evaluation based on direct knowledge of the International Coach Federation (ICF) examination process and skills level expectations.
The exam is taken after the 6 modules and 10 hours of mentor coaching are completed.
The PCC Performance Exam requires that you demonstrate coaching at an ICF PCC skill level, no matter how many coaching hours you have logged at that point. This is why we keep pointing to MCC level coaching so that you have a greater opportunity to reach or surpass PCC skill level by the time the training is complete.
Once you have passed the PCC Performance Exam you will receive the Level 2 Certificate of Completion, which you will then use to apply for your ICF PCC Credential.
NOTE: The training you receive will prepare you for the Performance Evaluation but doesn't guarantee you will pass. It is possible to take the Performance Evaluation more than once.
The Performance Evaluation process is as follows. You'll submit:
1) an Audio Recording file of a 30—50 minute coaching session.
2) a verbatim, time-stamped Transcription of the recorded coaching session.
3) an ECT Client Release Form for that recording signed (by hand) by you and the client.
4) an ECT Level 2 Exam Release Form signed (by hand) by you.
All documents are provided to you via your online account.
Once you've passed our Performance Evaluation, you will receive a certificate from us that verifies you passed at the PCC level which you can then use to apply for the ICF PCC Certification.